I had to go to Boston for several days this week.  I was attending a two day training for my job.  I was worried that I was going to have real trouble following the Slow Carb diet while I was away.  That turned out to be untrue.  I had no trouble at all.
Breakfast
I didn't have time to eat a "real" breakfast because the training started right at 8 AM.  I did bring some pre-measured whey protein with me so I was able to have that right when I woke up.   The first morning I managed to get up early enough to go for a walk.   I was concerned that the "continental breakfast" that was being served at the training would cause me some trouble, so I looked for something else to eat.  I ended up buying a Dunkin Donuts sandwich and only eating this part of it: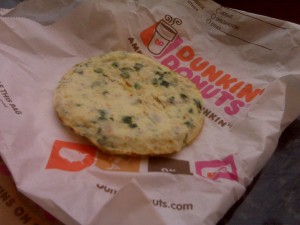 It only cost a couple of dollars and although it's probably not the greatest choice, it protected me from muffins at the training.
Lunch
On my morning walk, I had scoped out a restaurant nearby that had slow carb friendly choices on it's menu.  I was frightened to learn at the last moment that the training program was providing a buffet lunch since there wouldn't be enough time to go out to eat.  I was pleasantly surprised that the buffet was not a problem.  I loaded my plate with salad (no dressing), a couple of chicken breasts, and a big pile of broccoli and cauliflower that looked pretty clean (no heavy sauces to be seen).    Yipee!
Dinner
Dinner also concerned me because I was meeting two very close friends and wasn't sure how my food restrictions would come into play.  It ended up not even being an issue as I ordered a beef entree and substituted the potatoes for another vegetable (asparagus).  It also came with a big serving of spinach on the plate.  Perfect!
The second day was much like the first except I didn't need to eat any eggs, and I didn't stay in town for dinner.  I did get a mexican carnitas plate from a local taqueria to go for dinner when I got home.
All in all it was a very successful trip and I didn't need to worry so much.  The Slow Carb diet is not extreme at all.  No one thought twice of the choices I made, and my plate of food at the buffet looked perfectly normal.  I didn't need to worry about calling attention to myself or having to explain what I was doing.
One other thing that I noticed on this trip.  My energy levels are very even all throughout the day.  When other people in the training were crashing in the afternoon, I felt perfectly fine.  Granted, I ignored the chocolate cake that was offered at 2:30 for dessert, which probably helped.  But in general there are no ups and downs with this way of eating, just a very even energy level.  I'm impressed so far.