So I did get talked into running a leg of the Maine Marathon today. I didn't want to run today because I was in a wedding yesterday. It was quite the party. There was lots of eating, drinking and dancing involved. I only thought about having to run today once or twice and quickly dismissed the thought. However, when I reached for a helping of Lobster Mac & Cheese from the dinner buffet, I did think to myself that this would count as my pre-race pasta.
I was only on the hook for a 6.2 mile leg. My husband ran the 8.8 mile leg, so I really can't complain. I was only running a 10k.
My exchange point was right before mile 15. I didn't get the impression that my team was out to break any records, so I relaxed and waited for the exchange. The volunteers do a great job shouting out numbers so although I had never met my teammate, I knew he was heading for me. We high fived, and I took off.
Just because of how fast the first two runners on my team ran, I ended up at mile 15 with the approximately 11 minute milers. 11 minutes a mile for me is on the fast side, so if I had actually run the first 15 miles, there's no way I would be running with these people now.
I felt like a fraud.
Luckily relay team bibs are a different color, so I didn't feel like I was trying to pull something over on anyone. But I did feel a tinge of guilt having such fresh legs while they were all feeling like they had just run more than a half marathon.
My leg was almost the full length of route 88 in Falmouth. It was really beautiful, and ran past old waterfront mansions.
Here's a stone wall and gate house that I found super charming.
The field thinned out as I trudged along but it never got as empty as it did when I ran the MDI Half in Bar Harbor. There I was completely alone. This time, I always had company.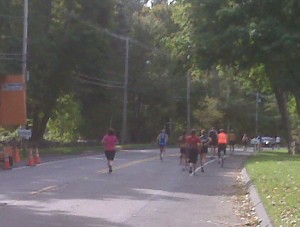 I was really honored to have the opportunity to be able to run with marathon runners. I couldn't have been more proud of everyone I was running alongside. When I finished my leg at mile 21, they all had to keep going….and they did.
Congratulations to all who ran both the half and the full Maine Marathon!
As for me, I actually tied my 10K PR. I couldn't believe it. I was up late dancing, eating and drinking at the most fun wedding I have ever been to. My body still thinks (incorrectly) that it is pregnant, and I didn't do any pre-race hydration like I should have.
And I tied my best time.
Go figure.