Even though my last double digit mileage run was January 30th, and my longest run since then was 6 miles, I set out today to run 10.
The reason I did something this foolish is that I signed up for the Race the Runways Half Marathon which is in exactly 21 days, so I have to step up my mileage quickly.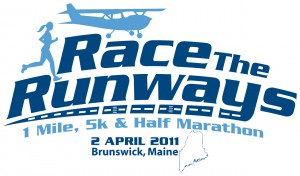 I am basically implementing the last 4 weeks from the Hal Hidgon Intermediate training plan.   This plan, weeks 9 – 12. I guess it was a reaction to my first race of the year being canceled due to bad weather.  I was supposed to run a 10 mile race in February but it wasn't meant to be.  The next long race on my calendar wasn't until May, and that just wasn't seeming like enough.  So I signed up for a half with only 4 weeks to train.  Only time will tell if I'm brilliant or an idiot.
I'll keep you posted.
Even though it may have been a bad idea, I headed out this afternoon to run 10 miles.  It was a beautiful day, about 45 degrees and partly sunny.  The breeze at times was a bit gusty and cold, but not too bad.
I ran my favorite 10 mile loop which involves running past ocean front mansions and a couple of lighthouses.   Here's a picture of one of my favorite houses.  It's a big large for me but I always swoon at stone houses, especially the kind with those lattice work windows.  So beautiful.  Plus it looks like it's being rennovated (see dumpster) so that always gives me the urge to grab my sledgehammer and knock down some walls.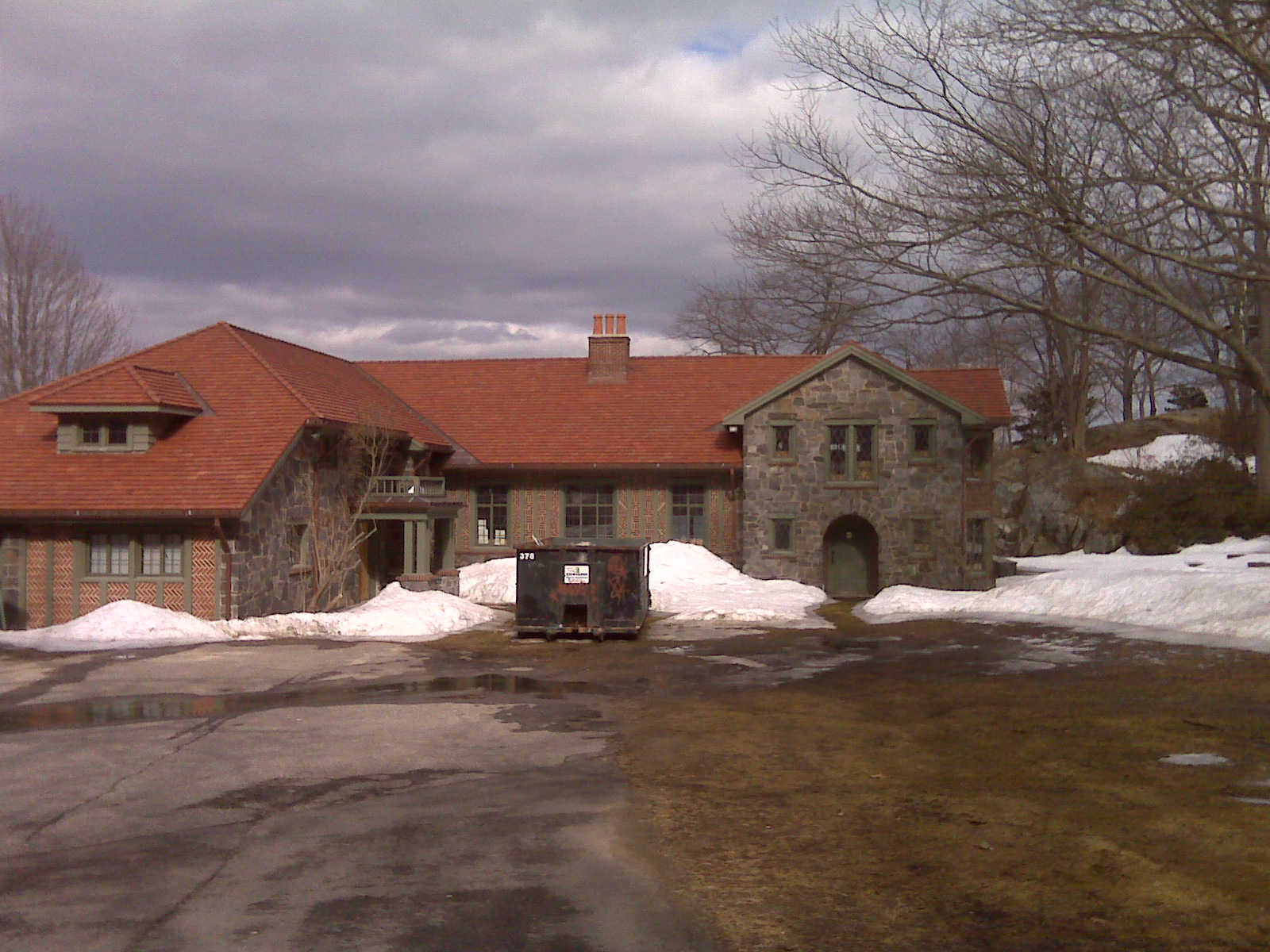 Here's a close up of the windows.  Maybe someone could tell me what those things are called?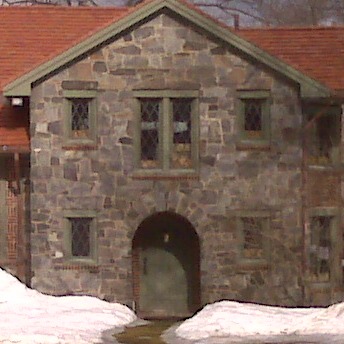 After I wiped my drool off my mouth, I kept on running. I ran to Fort Williams and saw this large tanker being escorted by several tug boats.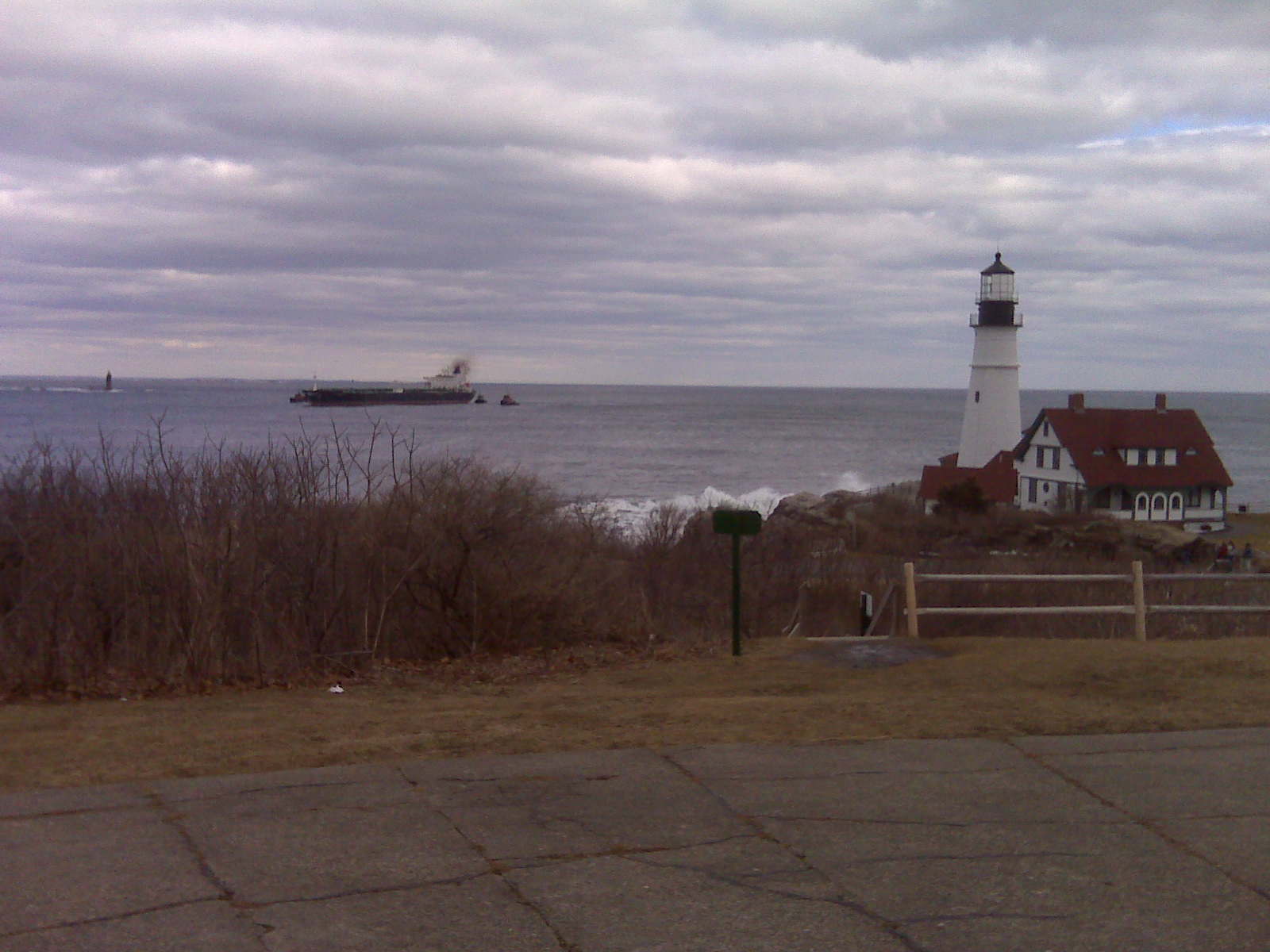 I ran by this fort, and there it was again.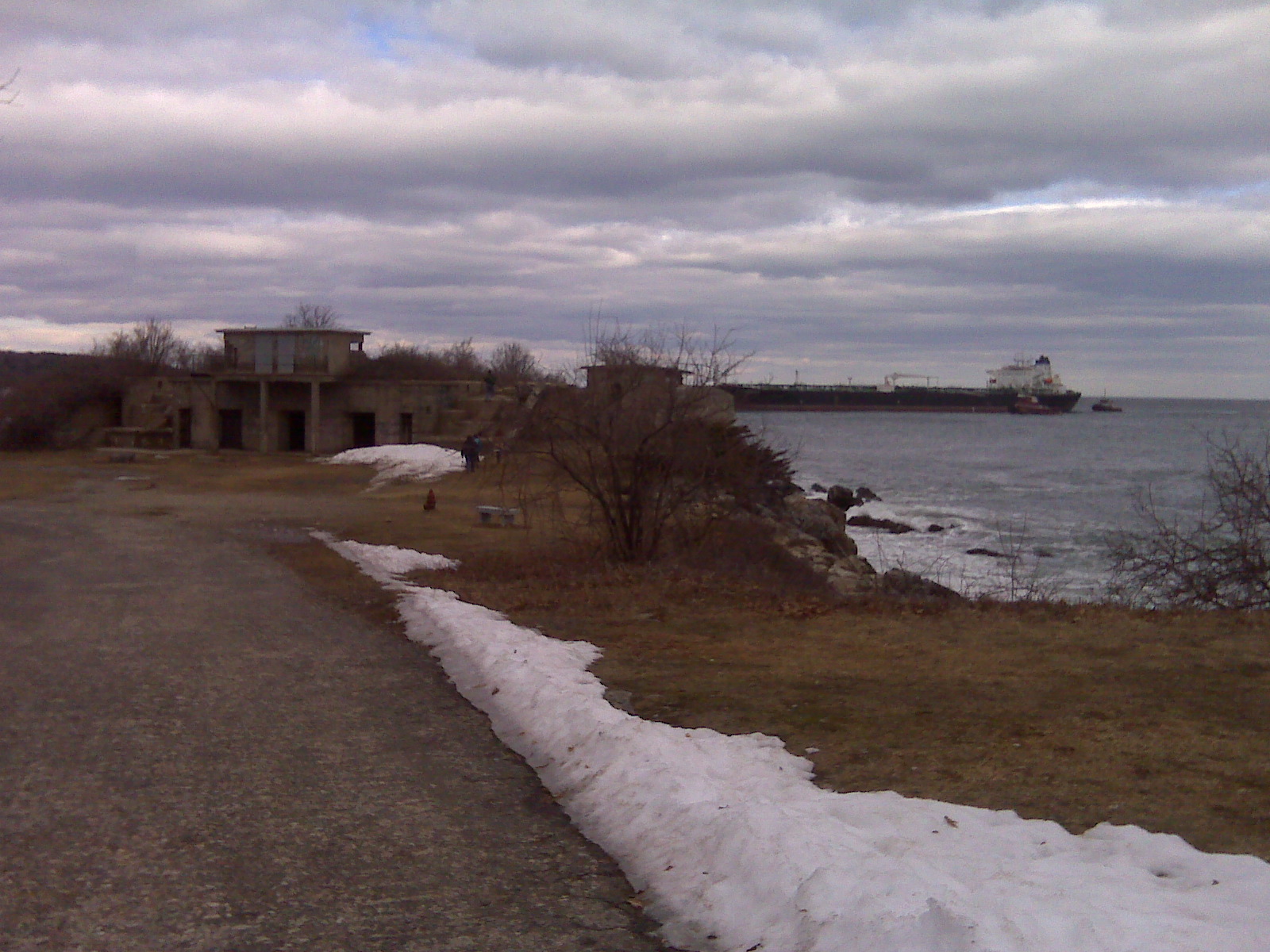 Then I thought I'd alter my route a bit and sure enough I got lost. I ended up here at Spring Point Ledge Light by mistake.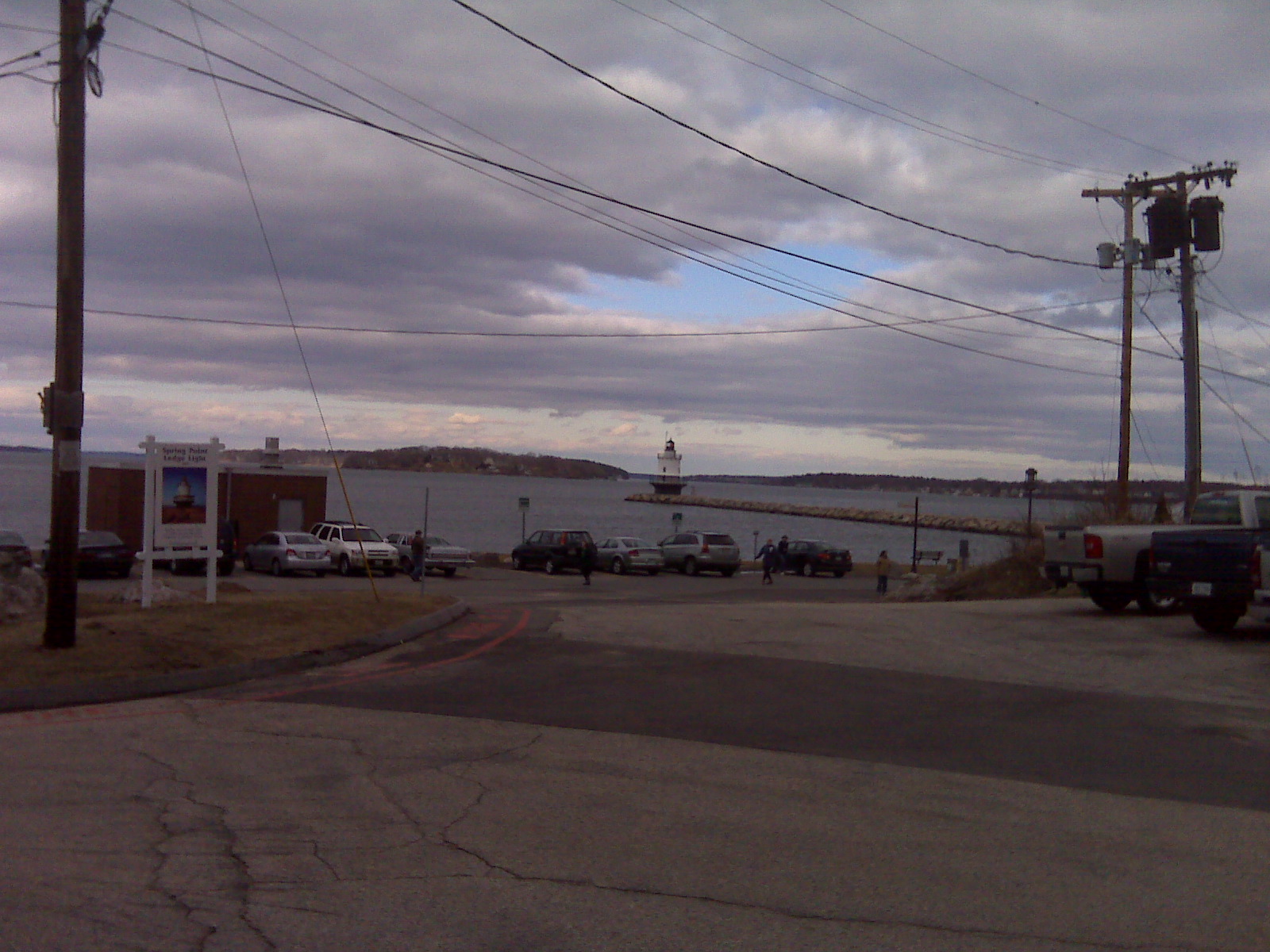 The tanker had beaten me here and had just passed by. I was worried that it was going to be at the Casco Bay (draw) bridge right when I wanted to cross over, but it looked like it wasn't going as far as that. It seems to be docking here and I was very relieved that I wasn't going to have to wait for it to go under the drawbridge.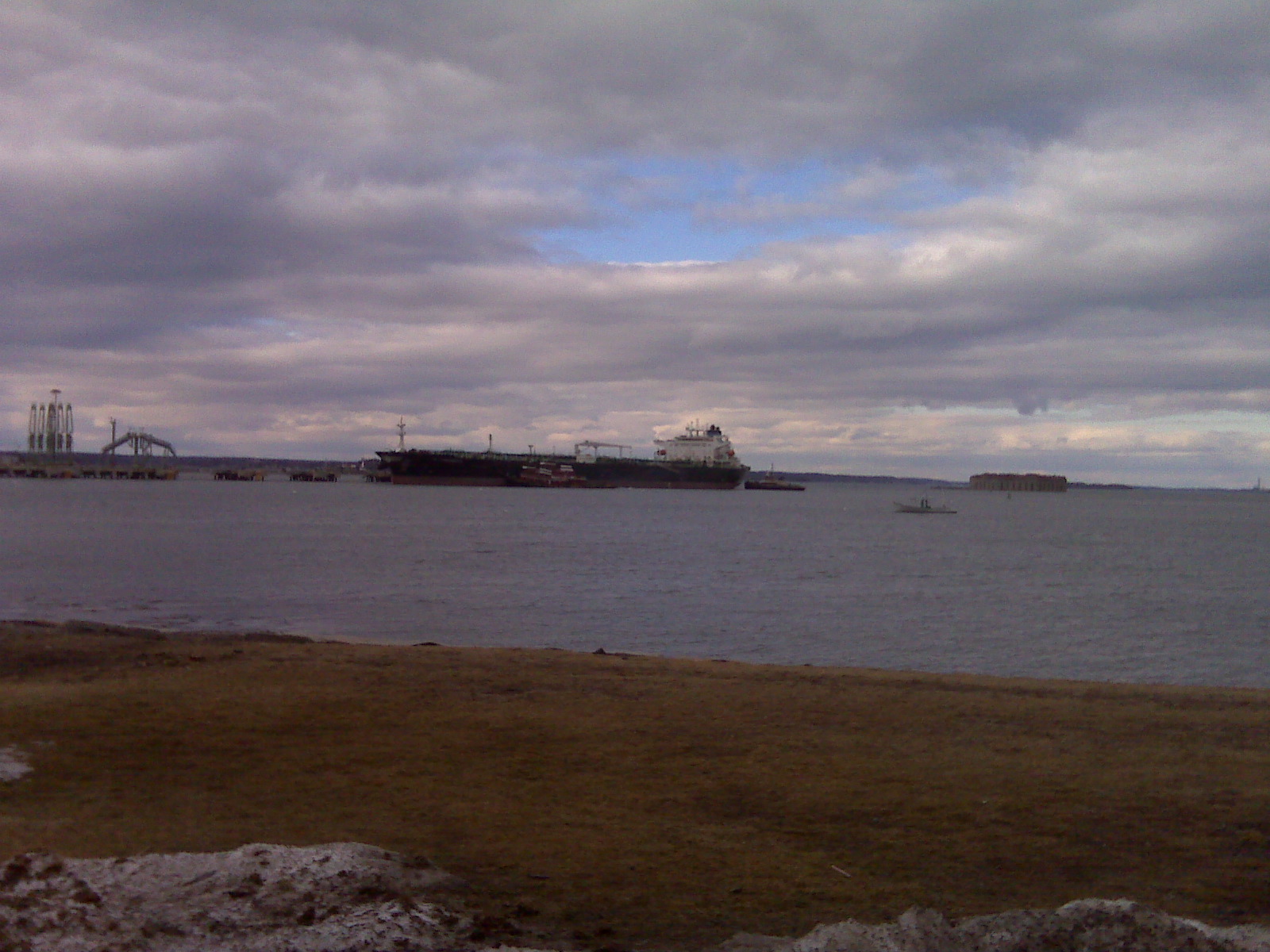 I got out my phone at this point and used Google Maps to lead me back to the bridge because it was getting late. Google said I had 3 miles to go back to my car but according to my Garmin I had already run 8. I finished my 10 miles at the base of the bridge and walked the mile back to my car.
My calves were tight and sore, but other than that I felt pretty good after the 10 mile run.  I have to do an 11 next week, a 12 the week after that, and then the following weekend is the half marathon.  I am no longer worried about it like I was when I signed up.  I know I will be able to to finish.    My time for this 10 mile run was 2:10.  I am pleased with that time since it is consistent with my half marathon pace from last year, so I know I haven't lost anything from the long winter.