Saturday April 2nd, was the Race the Runways Half Marathon on the Naval Air Base in Brunswick, Maine.   This was the first year for this race, and it featured a course that included a few miles on the runways.
It snowed on Friday, which was April Fools Day.  The snow was heavy and wet.  Our snowblower couldn't handle the weight of the snow, so I tackled the driveway with a shovel.  I was extra careful with my motion so I wouldn't hurt my back.
However, when I woke up Saturday morning, my hands and wrists were swollen,  and my right knee was very tight and it hurt.  I don't normally have knee pain, so I didn't know what to make of it.  I decided to give the race a shot and see how I felt once I started running.  My husband drove so I could ice my knee on the way there.
The race expo was in Hangar 5, a very large airplane hangar that was completely empty.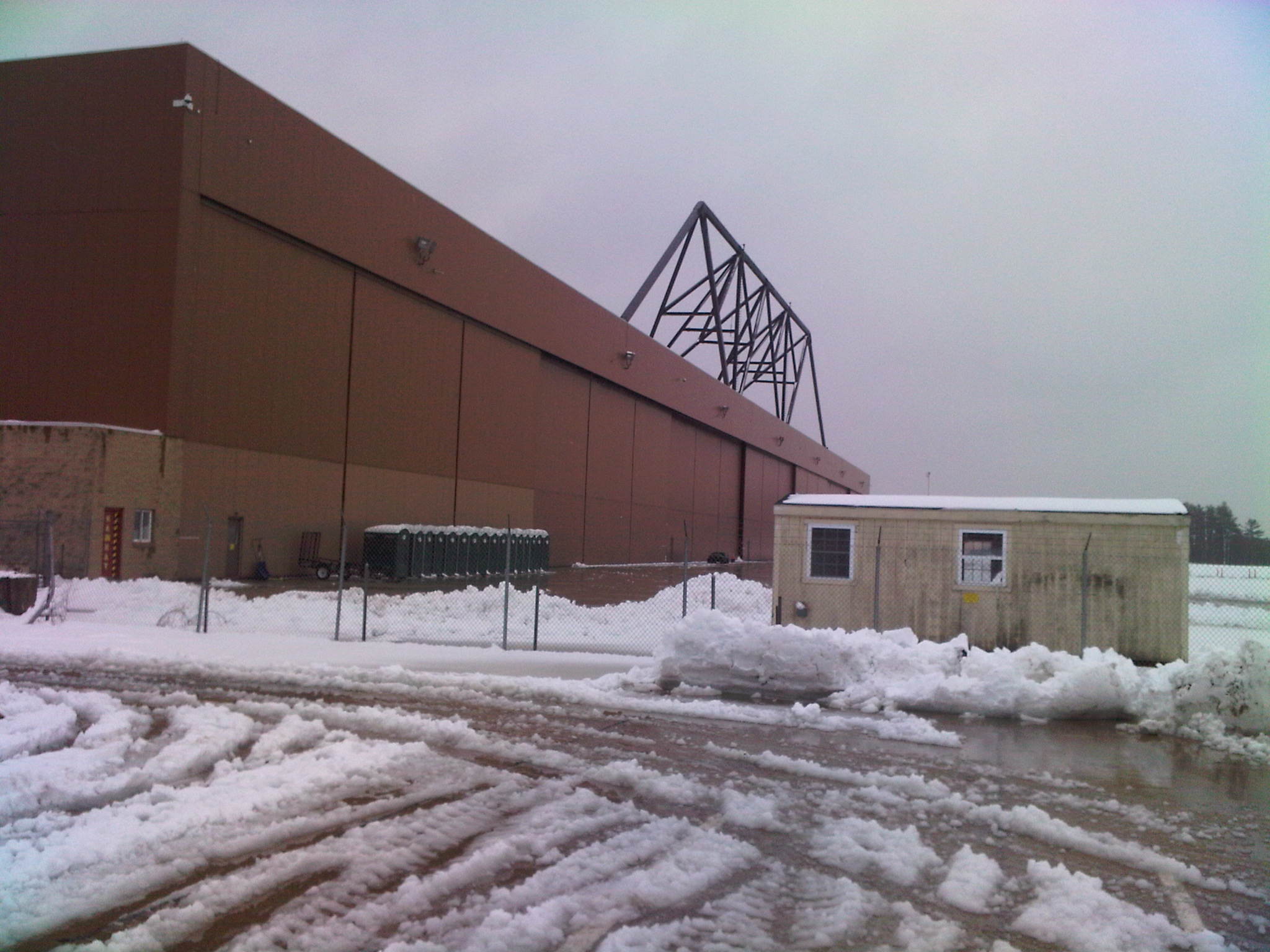 The volunteers did an amazing job clearing the runways of snow in time for the race. Snow was not an issue on the entire course.
The race started out on the runways, and I didn't realize how far away the start line was from the hanger/port-o-potties, and I had to jog a good quarter mile to get there before the gun! I made it just in time.
At first my knee felt stiff but by mile 2, I was fine, and didn't think about it for the rest of the race.
There was a 5K also starting at the same time. It started on a different runway but then the two races joined together for a mile and a half. This made it a bit crowded and it was strange running with people who were pacing them selves for a completely different experience. I was jealous when around the 2.5 mile mark, they turned left and headed back to the hanger/finish line, and we turned right and trudged on. We were off the runways now, running on roads that looped around the base.
There were about 300 people running the half so we spread out rather quickly. It was a beautiful day, about 45 degrees, but the wind was 10-15 mph which made it challenging at times.
Here's a picture taken around mile 4.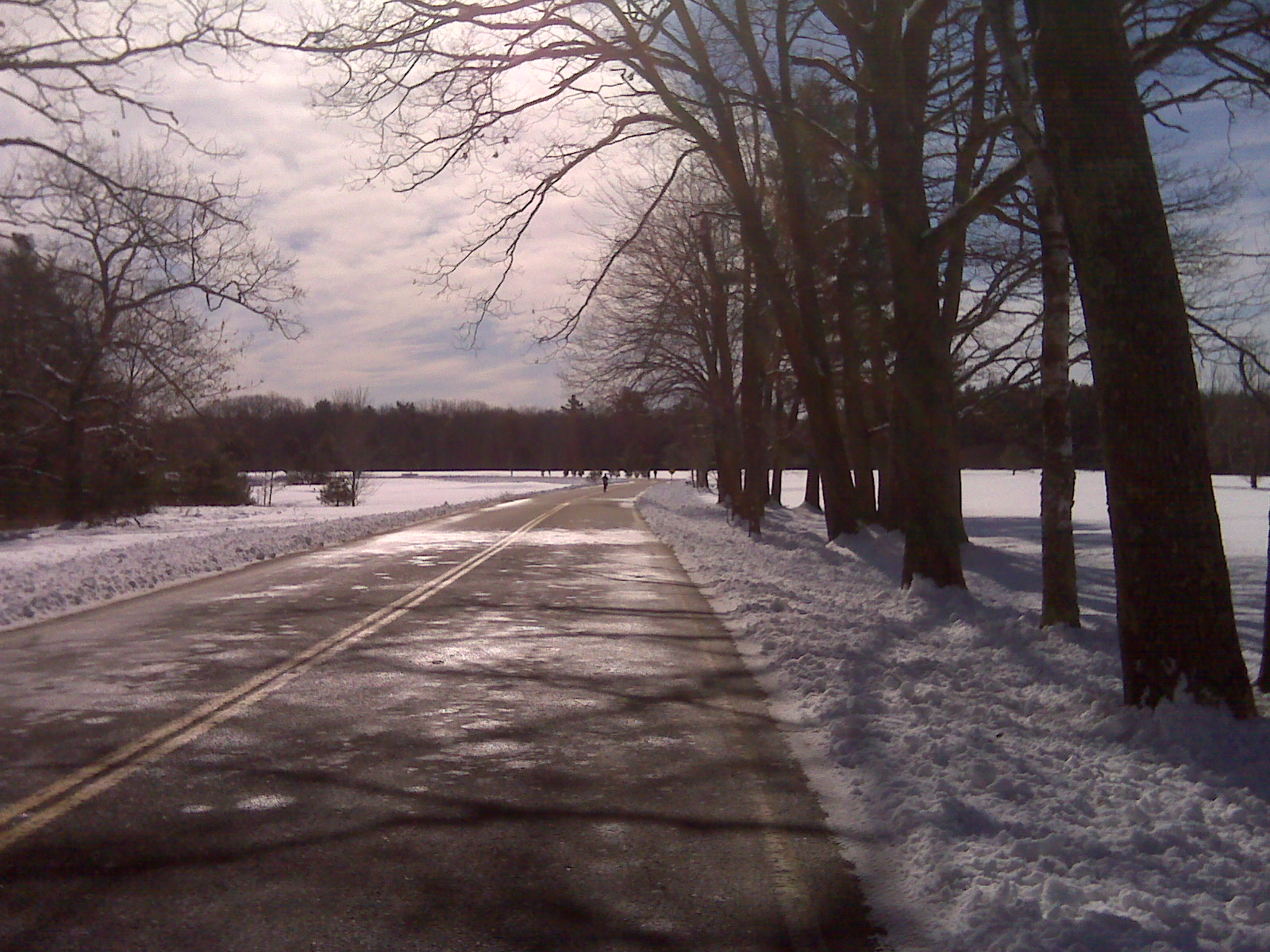 The course then circled around the airport, on the other side of the hanger. The wind was gusty at times which made it challenging. Just before I got to mile 6, I watched the leading runner zoom past me. He was heading back toward the finish line. It was around 1:05 at this point, and he was right around the 10.5 mile mark. I was in awe at how fast the leaders were running. I tried not to think about how much further I still had to go.
Here's another picture, around mile 8.5…it isn't very interesting.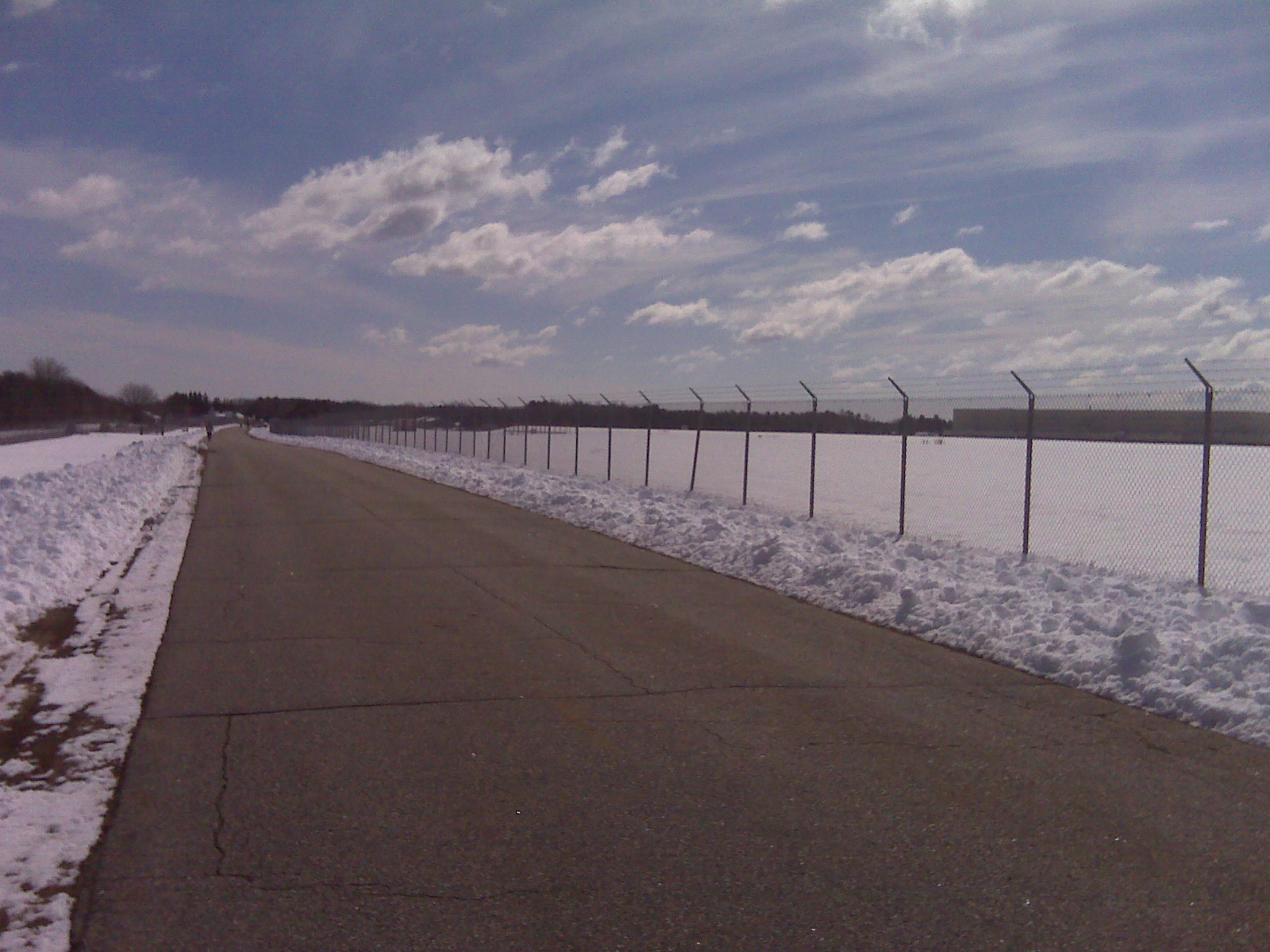 I kept going and around mile 10, my husband appeared to say hello. He had finished 20 minutes earlier with a time of 1:51 and was there to warn me not to give him my gloves because I would need them. I told him I had thumb holes in my hoodie and I'd be fine. Little did I know what he was warning me about.
The course went back behind the hanger again, and then at mile 11, it turned back on to the runways. However, this time the wind was right in my face, and there were no trees or buildings to block it.
The picture below shows how far we all had to go into the 15 mph wind. It was about a mile and a quarter. In the picture, it was basically to the horizon, then we could turn around and run the last 3/4 of a mile to the finish.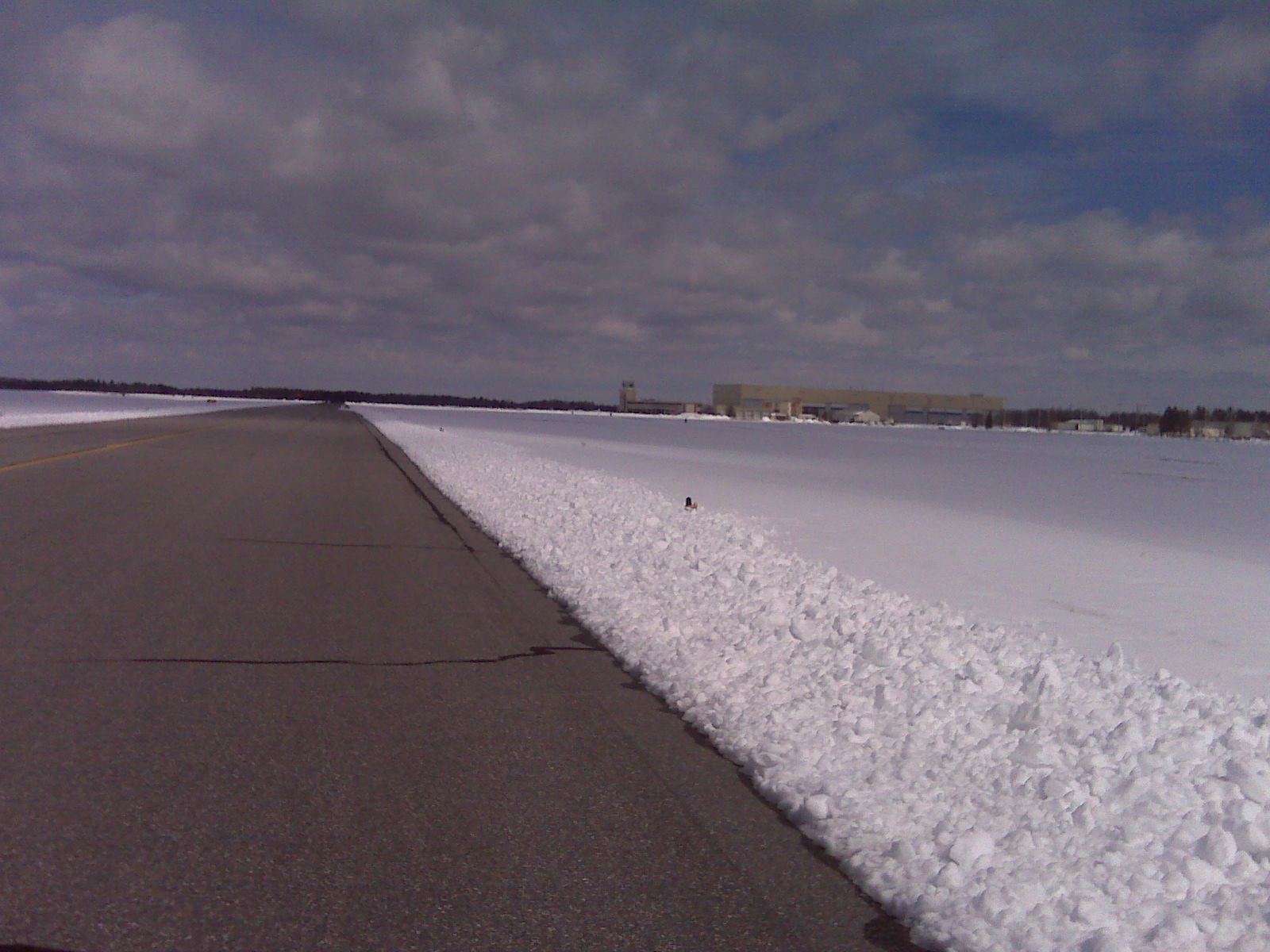 I had been keeping up a good pace, until this point. Then with the wind pushing me back, I couldn't get any traction. I literally slowed down from a 12:30 pace to 14:00. It was a heartbreaking, soul crushing wind. Time stood still. I didn't know how I was ever going to finish this race.
Somehow after what seemed like 30 minutes, I finally got to the turn around.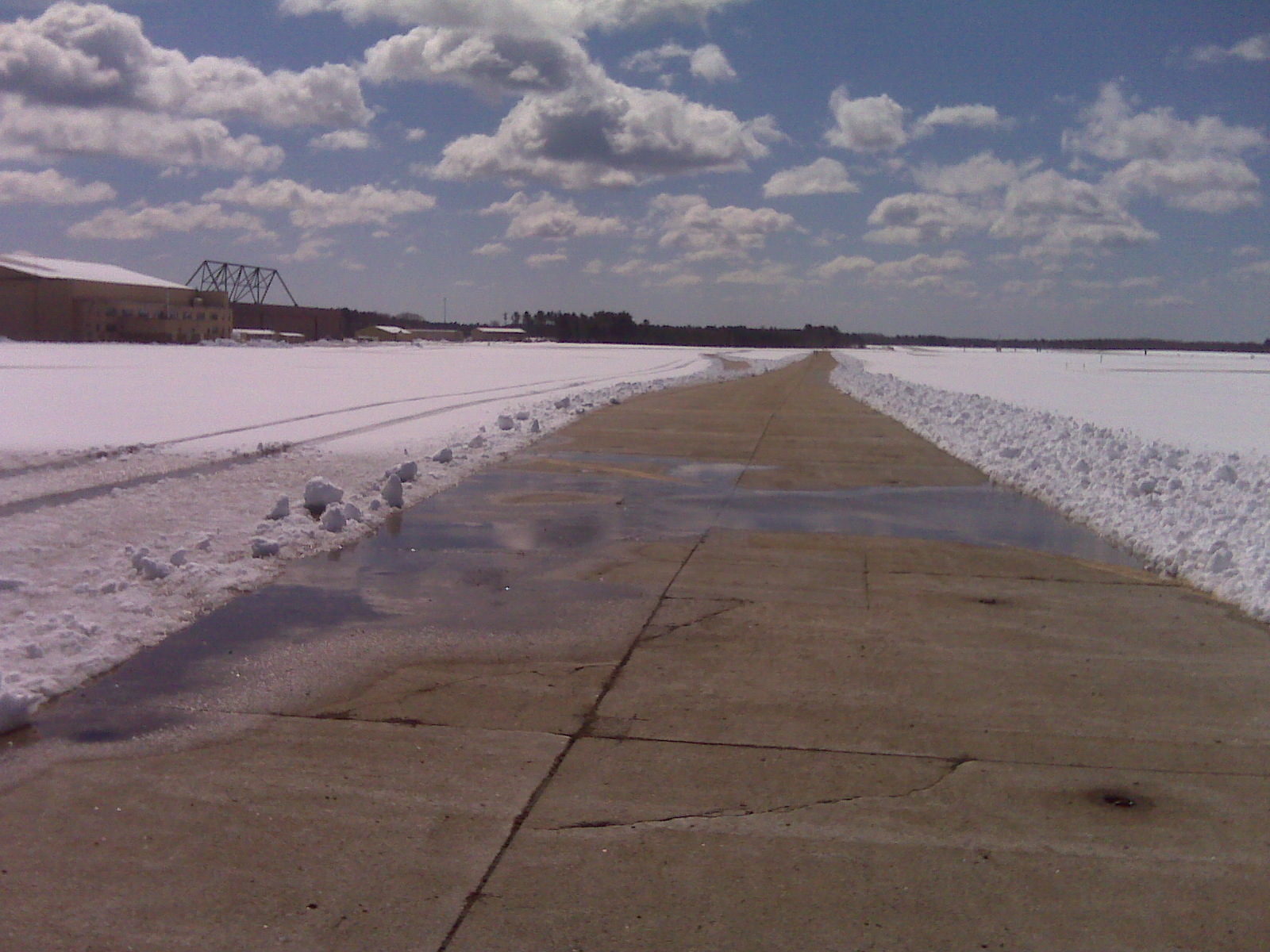 Again, I just had to run to the horizon and then turn left back to the hanger. I went a lot faster on this stretch with the wind in my back.
Here's a picture of the finish line, with my husband on the left taking my photo. Apparently, there was an event photographer taking photos of people finishing, but he didn't bother to stay until we were all done. I was not last, thankyouverymuch.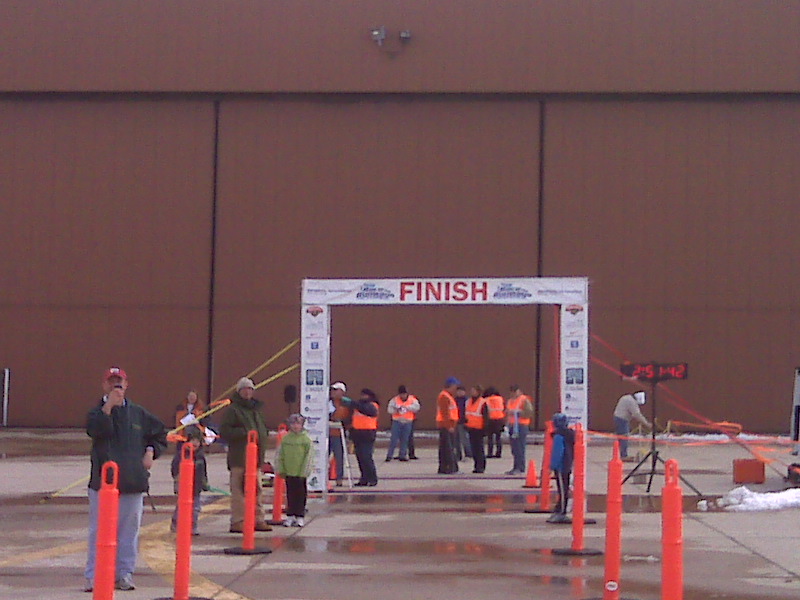 Here's the picture he took of me, I still have my blackberry in my hand.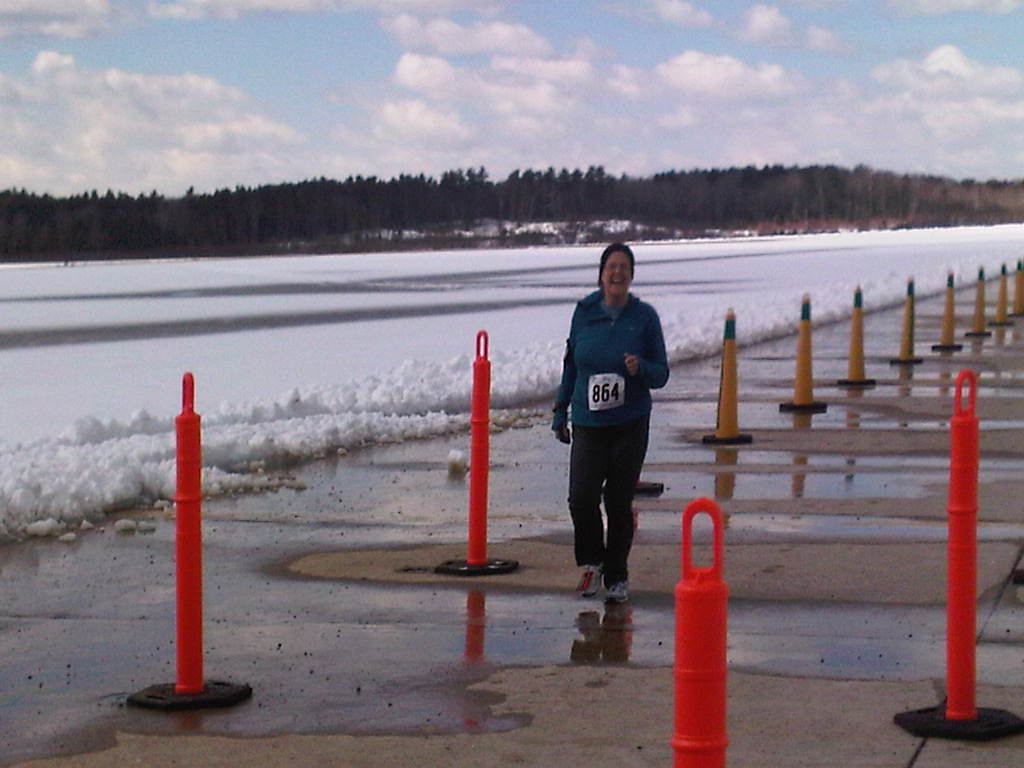 The medals were very nice and shiny, with the ubiquitous Maine shape.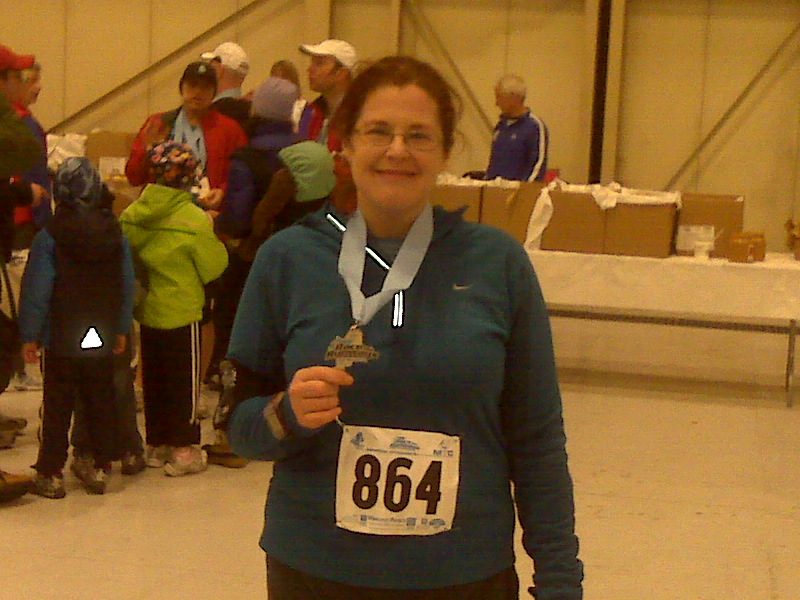 I surprised myself by achieving a PR (personal record) with a time of 2:51. My fastest half marathon was Bar Harbor in September of last year, and that was 2:54, so I am very happy with this early season PR.
Next race, the Gettysburg North South Marathon on May 1st. My husband is doing the first two relay legs (13.1) and I am doing the second two relay legs (13.1).