Every year the Beach to Beacon 10K gets more and more popular. This year the entries sold out online in 8 minutes. I was lucky enough to snag one of them, along with my husband, sister-in-law, father-in-law and several friends. We all ran the last two years as well, so this is starting to become a tradition for us.
My day started early. Our brother-in-law was kind enough to agree to watch our kids for the morning, but we had to drop them off at 6:30 AM in order to get to the start in time.
We got to the parking area near the start line by 7:30 AM for an 8:00 AM gun. We had plenty of time to use the port-o-potties and pose for a group photo.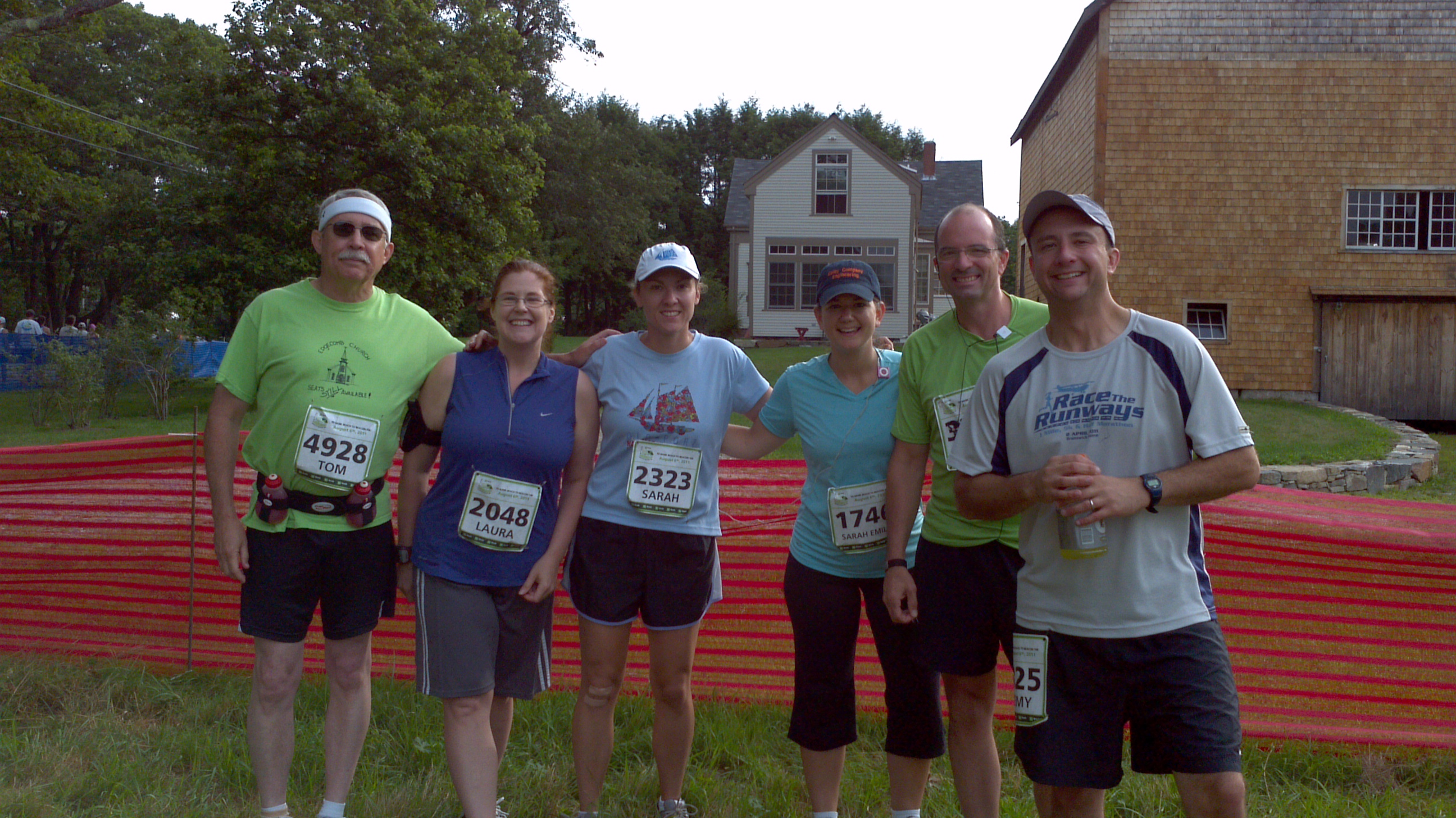 The race is very well organized so there is plenty of parking, and almost enough toilet facilities for everyone. Okay, some guys pee in the woods because the lines are so long.
It seemed like the weather was going to be fine. It was a bit overcast and felt a little cool, but not cold at all. My perception of the weather was quite wrong, however.
At the start line, when I was just standing there not moving, I started to sweat. I knew that this was not a good thing.
6,000 people run the Beach to Beacon. Here's what that looks like from the middle of the pack.
In front of me, you can see the start line (balloons) and you can also see that I was lined up with the 9 minute milers. This wasn't crazy or wrong. I'll explain that in a minute.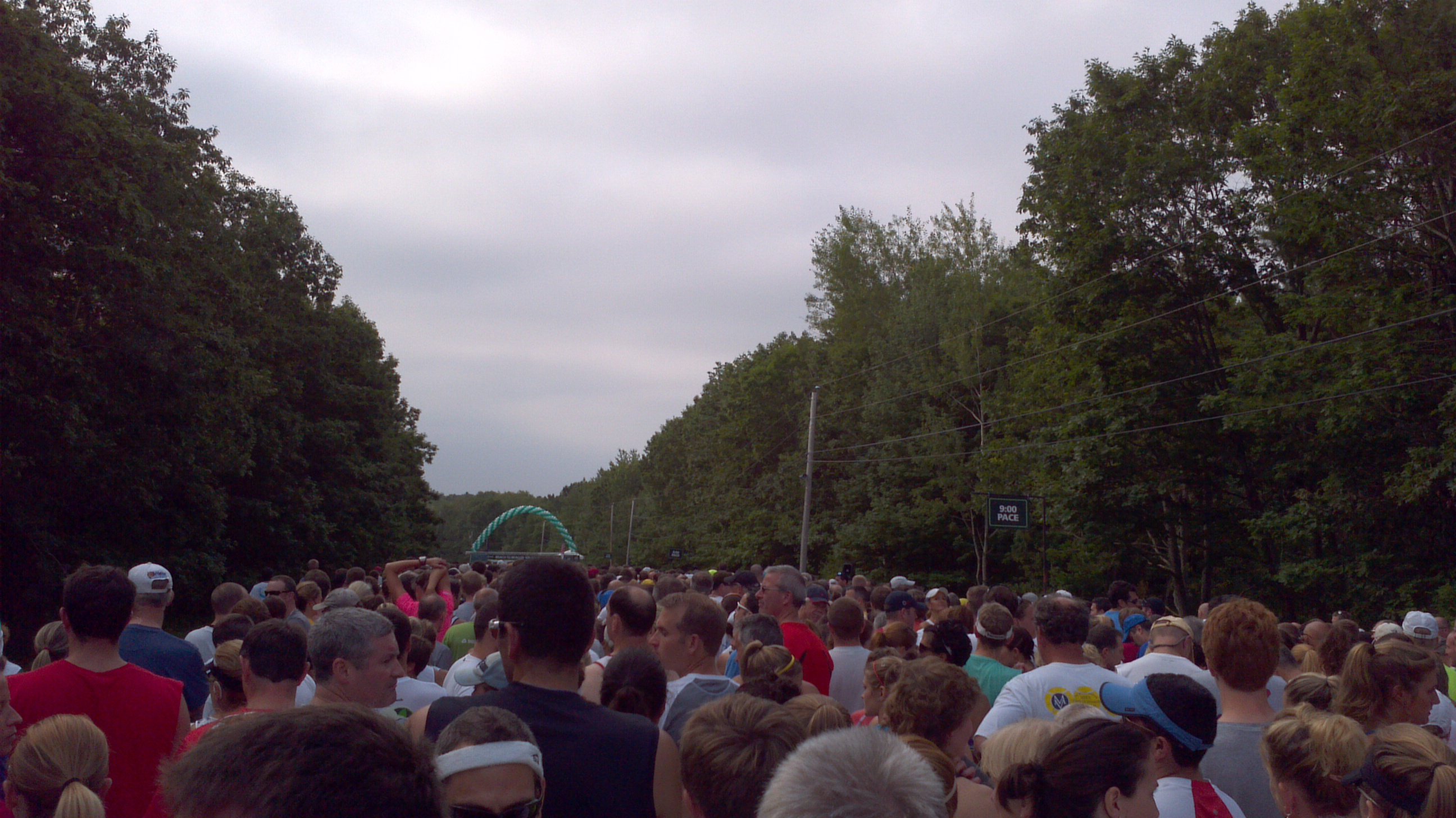 Here's what the crowd looked like behind me.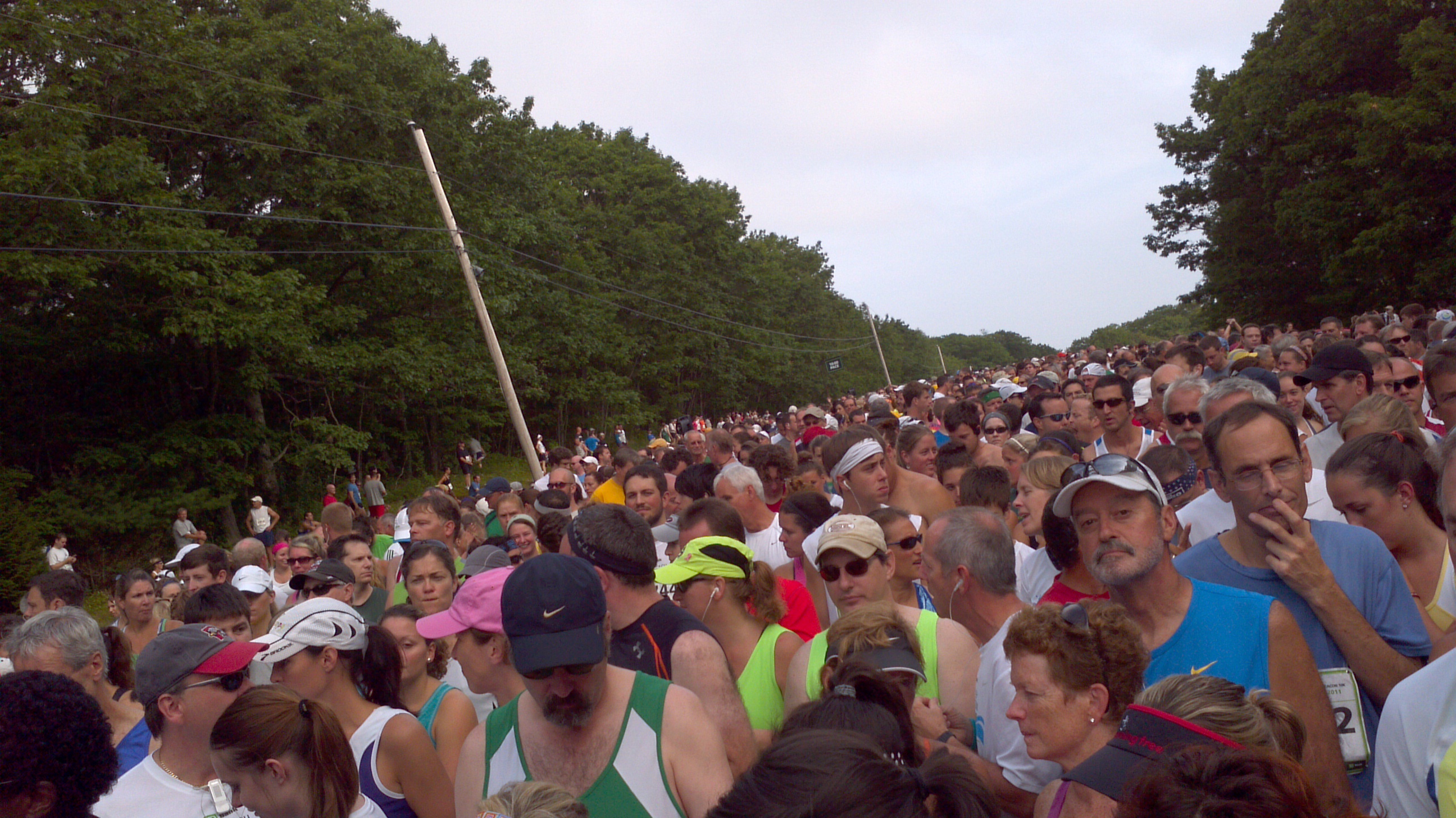 I was standing with my sister-in-law and father-in-law. My plan in being up here in 9 minute mile land was to hang with them as long as I could and use the momentum of a good start to keep me motivated for the rest of the race. I ended up keeping up with them for a quarter mile, which I consider a victory. They were running 8:45s at that point, and then after a quarter of a mile, they picked up the pace. I kept on running at just under a 9 minute mile for the first half mile, then I slowed down a little bit and ended the first mile with a 9:30 time. I was very happy with this first mile time.
Unfortunately, right around mile 1, my left hamstring started hurting. I haven't had a hamstring injury before so I didn't know what it meant for the race. I figured I'd just keep going and see what happened. I had to slow down quite a bit at this point so it didn't hurt as much. I found that an 11 minute mile pace made it feel okay. I was disappointed since I had started so strong, but maybe I started too strong. 9:30 is a sprint for me, and maybe that wasn't the best way to start a 6 mile run.
I settled down into my 11 minute mile pace and started to enjoy myself. Here's the course around the half-way point.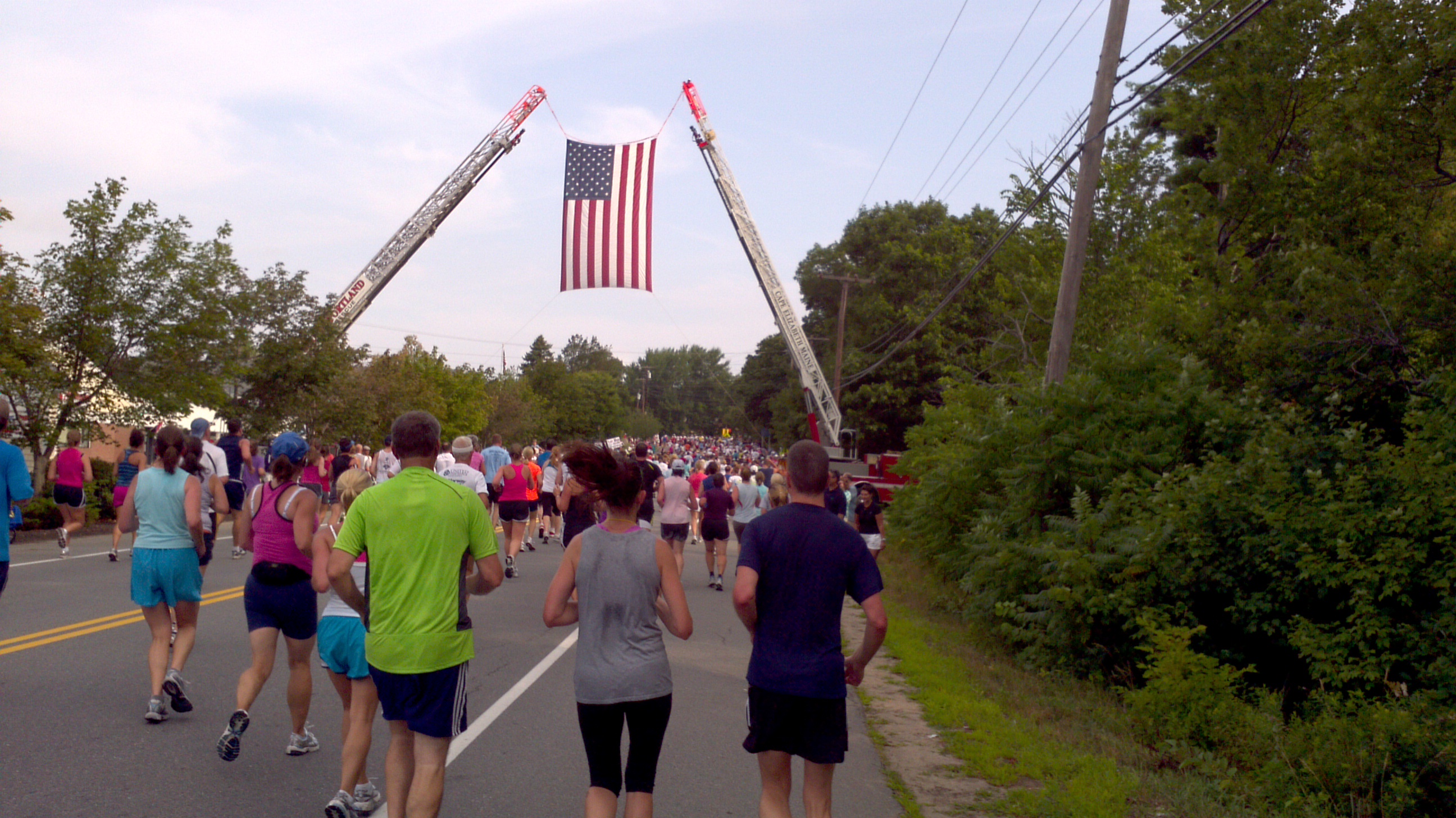 There's a big turn onto Shore Road around mile 3.5. The crowd is always loud here and their enthusiasm and support is something I look forward to every year.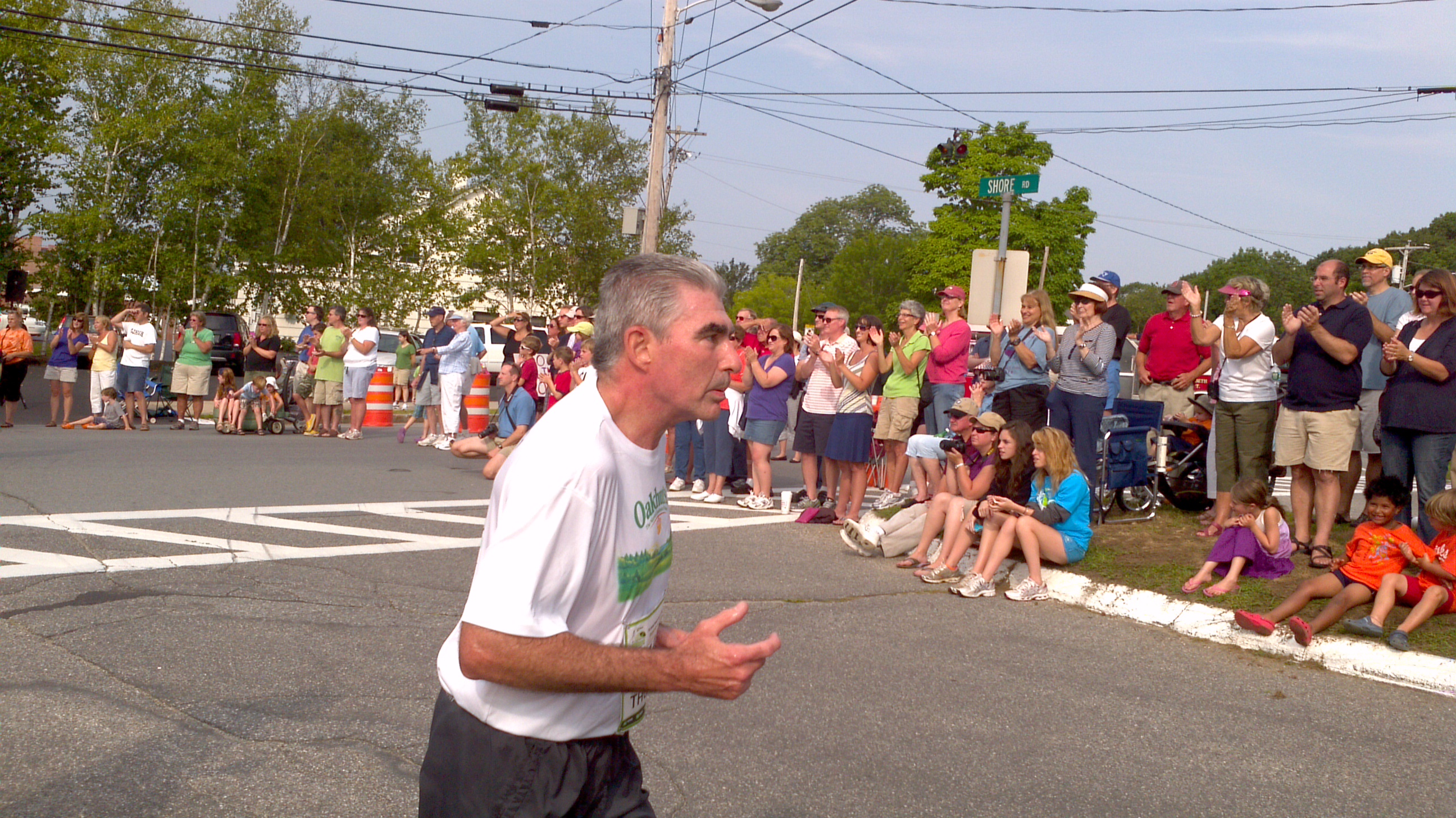 Around the 4.5 mile point, I was passed by a lighthouse. Yes, a guy running inside a lighthouse on wheels passed me. He passed me like I was standing still. He came up so fast on the guy in front of me, he startled him. I had felt pretty good before this, but there's something slightly demoralizing about being passed by someone with that much of a load to push. It's like being passed by the baby stroller people. It hurts a little bit.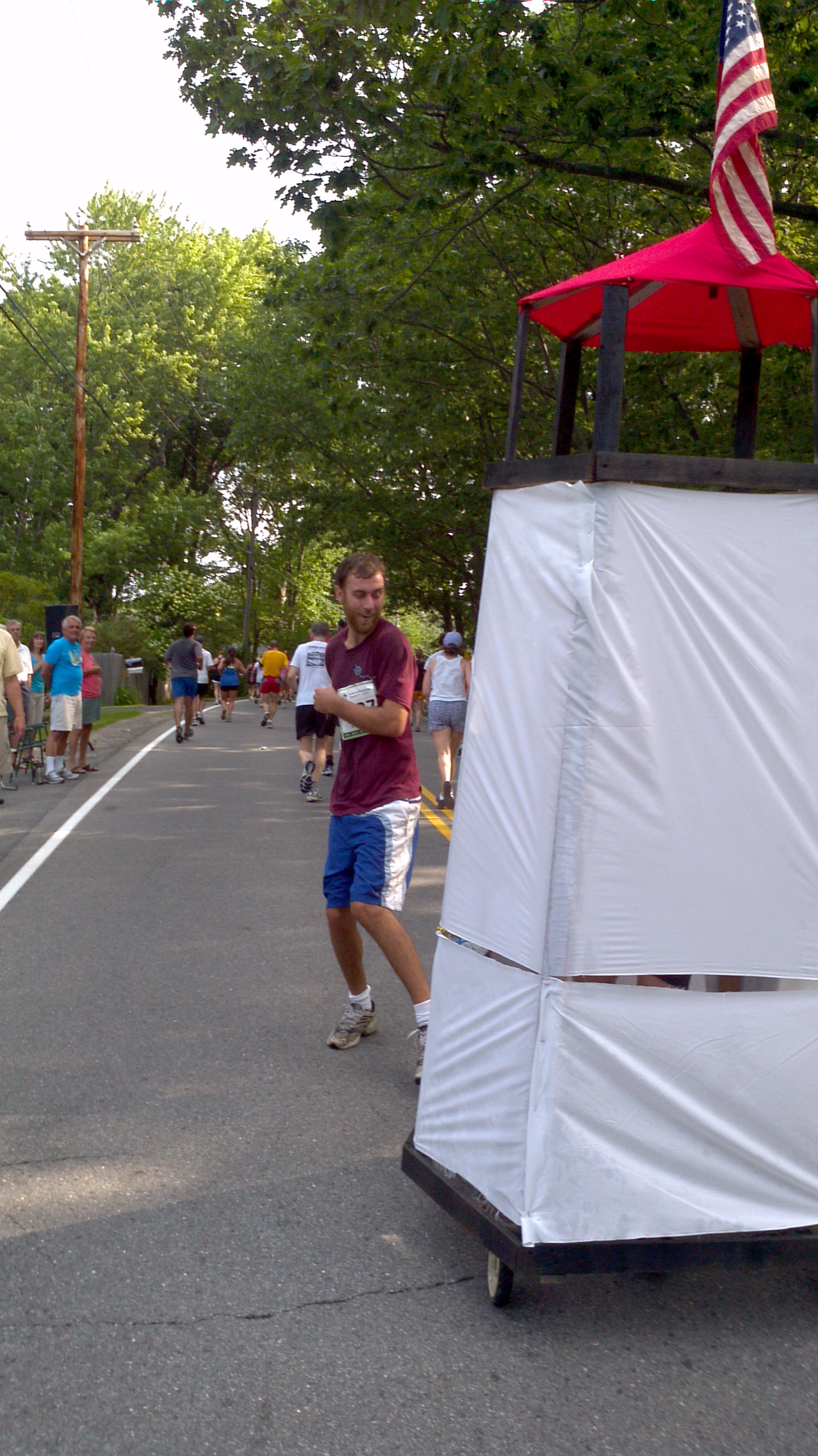 There was no wind at all during this race and the humidity was hanging in the air. I tried to drink at every water station (every mile!) but I find it difficult to drink and run and I didn't want to lose time. I forgot to eat a GU at the half way point and knew that now there was no point, it was too late, and I had to hope I didn't run out of gas.
The hills just after mile 5 get me every time. The race course is really pretty flat, but that last little bit of a hill at that point is challenging. I did okay on it and felt pretty good coming into Fort Williams Park. I finished at a gun time of 1:12, but my net time was 1:09:18. It was 16 seconds slower than last year, which also hurts a little bit.
Last year, however, the weather was cooler and not as humid. The heat and humidity this year made it a tough race. Combine that with my hamstring injury and I don't actually feel too terrible about not improving my time.
What I am more upset about is that I missed seeing Joan Benoit Samuelson at the finish line. I read in the newspaper the day after the race that she was there at the finish line greeting all the runners. I didn't see her and I was sad that I missed the opportunity to thank her for this wonderful race and for being an inspiration to me.
Then today, I got this photo. I was just a couple of feet away from her as I crossed the finish line and I totally didn't see her! Arghhh!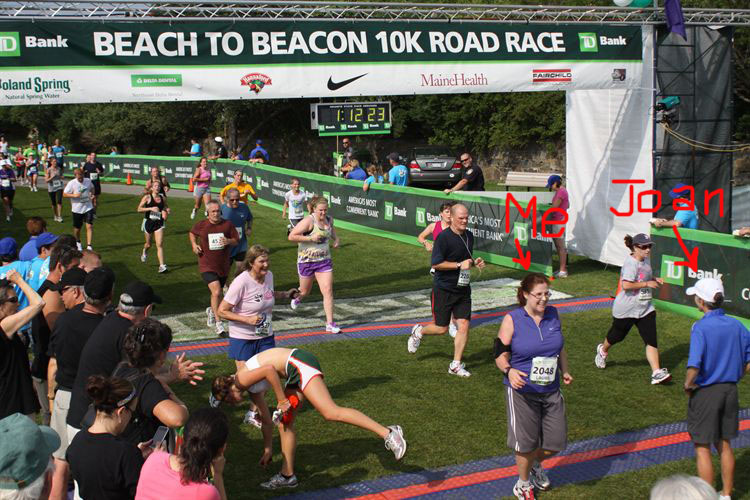 Anyway, I met up with my group and we swapped stories of glory and defeat. Then we grabbed some food and headed toward the bus line. Parking at the start line is convenient but there is then a moderately long wait for a shuttle bus back to the lot. The lines are well organized and the buses run often. Other than having to cut our post race fun short due to the extra time, it's really not a big deal. But we didn't want to keep our brother-in-law waiting, since he was kind enough to watch all the kids all morning.
Here's a picture of the bus lines.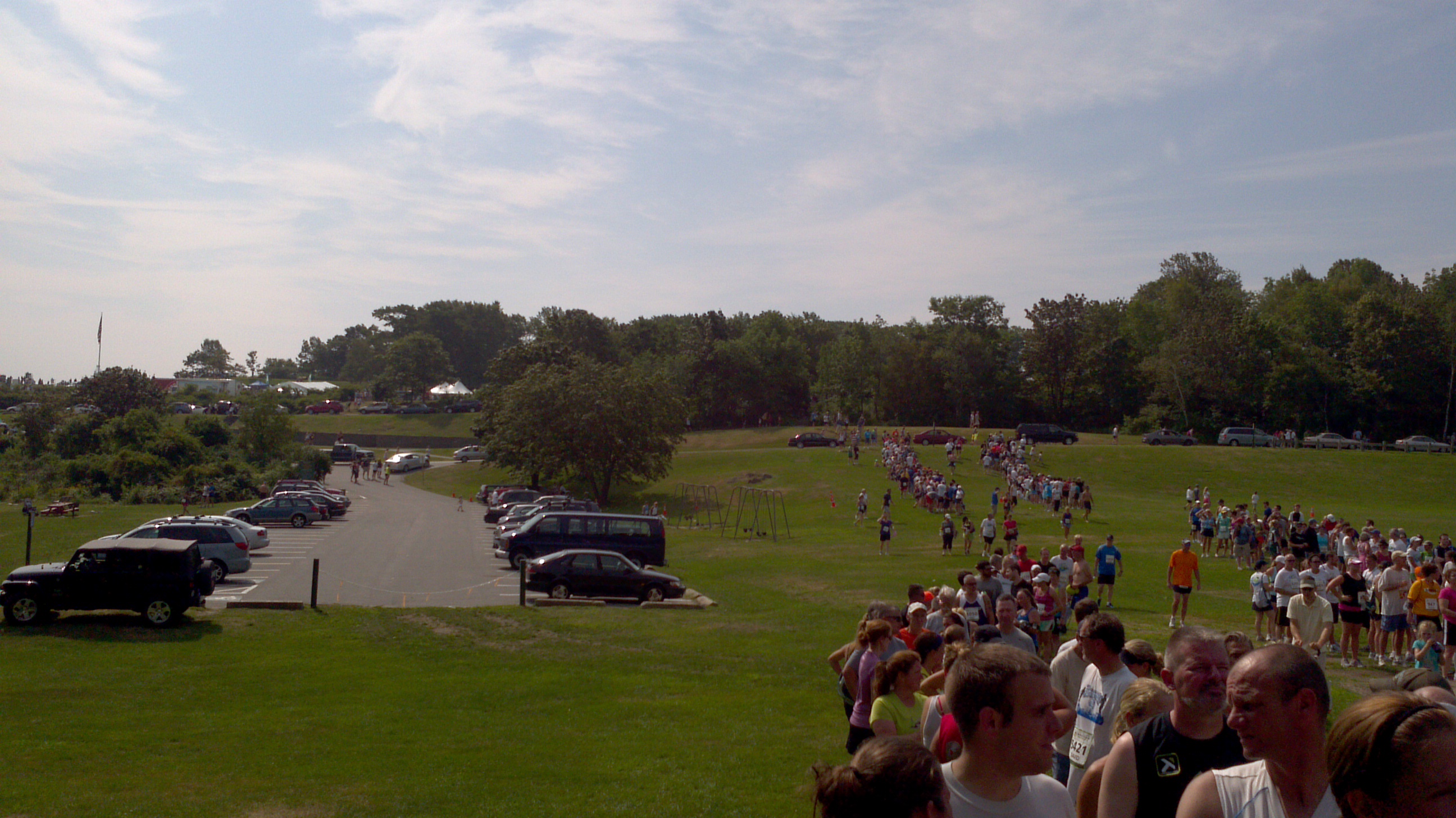 I hope we're all lucky enough to get into this race again next year. It really is one of the highlights of the summer running season.
Oh, P.S. My sister-in-law would like to know why all the port-o-potties were gone from the start line parking area by the time we got dropped off by the shuttle bus. She was really counting on them still being there and would like to know what was the hurry?